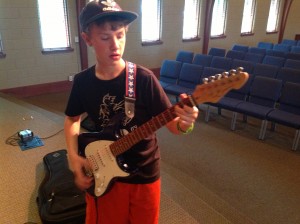 Lately I have been adding a lot of new students to my music lesson schedule. Starting with 5 string banjo, guitar, voice, keyboards and mandolin, it seems like everyone is ready to get back into private music lessons.
One of the most asked questions I get is: " how much time should I spend practicing each day?"
That's a good question and I will answer with the following:
With a student roster of 25 students with ages ranging from 6 to 57 and above, all of our schedules are different.
Rule of thumb for all ages: put your hands on your instrument for at least 15 minutes a day. Wow, now that's not a long time is it?
Practice is not necessarily about how much time, but what you do with that time.
For example, don't noodle or goof off ( playing chords or guitar solos) that are not going to challenge you, or increase your skill level.
Attempt to practice a new concept ( whether its learning a new guitar chord, or singing a vocal scale) Go after something that's going to help you become a better musician. After you have done your musical homework, then play/sing your favorite song.
Above all, remember music lessons are suppose to be fun! Hopefully you will have set some musical goals that you can pursue. I have seen amazing growth with my students once they master the "basics" of music lessons, whether its positioning your left hand to make that chord or figuring how the Circle of 5ths applies to lead guitar solos.
No matter how young or old, I strive to make our music lessons fun and profitable. I want to create a positive environment where all of my students feel good about their music skills.
I offer private music lessons for the following: voice, guitar, banjo, piano, mandolin and music theory. Lets get started today in helping you develop the musician that is inside all of us!