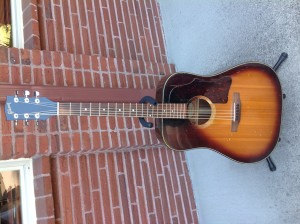 Thinking about private guitar lessons? What kind of guitar should I purchase? How much should I spend on my first guitar?
These are questions that come from all of my beginning students. The photograph attached to this blog is my 1973 Gibson J 45 deluxe. It was a pawn shop rescue: it needed some major repair. But one of my friends purchased it from a pawnshop in Nashville, Tenn. Got the J45 into a shop, repaired it and sold it to me. It still has some cracks and scratches, but has plenty of " mojo " It feels good in your hands, and stays in tune when you play up and down the neck.
Besides going to your local music store to buy your first guitar, check out garage sales. Look at your local Craigslist ads. Set a budget, be patient and your guitar will show up. A lot of people are selling some really nice guitars at a fraction of their new cost. Buying used is not a bad thing.
Buy a guitar from a major maker: Gibson, Fender, Taylor, etc. Avoid the cheap no name guitars (!or ones you would buy direct from major wholesalers/ big box stores) Your guitar will need a set up and you want a guitar that has a solid top. Why? It will sound better and you will be encouraged when you take guitar lessons.
Make sure the guitar neck is finished well. The sides and frets should be smooth and finished. This will help the beginning guitar player form basic guitar chords and scales.
Find a teacher who will recommend a structured lesson plan. I like to use some basic guitar instruction books for my beginning students. You have to learn the basics first. Most of my students pick up chords quickly, but this is after they have developed proper finger strength and placement. After you learn the basics, then we start to work on songs/ musical styles that you want to learn.
Whether you want to play rock, blues, folk, country, Americana or gospel, you need to learn and understand the foundations of the guitar. I teach music theory in all of my lessons, so my students understand what they are playing.
I have students of all ages: from 6 years old to 60+. But all of them have this in common: they have purchased guitars that are well built and stay in tune. And starting off on acoustic guitar is a great place to begin.