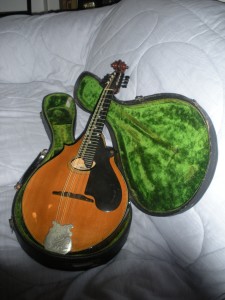 Above is a picture of my Lyon Healy mandolin. It's known as a tear drop or A model. It was passed on to me from my grandfather, Mitchell Hotra.
I've been playing mandolin from an early age. I taught myself a few open position chords. I discovered that it's a very easy instrument to learn. You must have a mandolin that is easy to finger.
I teach beginning folk / Americana / country mandolin here in Vancouver WA. I use a few instruction books that are easy to follow. And you will be playing songs and with others in no time at all.
Just as 5 string banjo has made a comeback in the music scene, I believe mandolin is going to do the same thing. If you have a mandolin sitting in the closet, let's get that wonderful instrument out, and start you with private lessons.
I offer 1/2 hour private lessons starting at $25.00 per lesson. Learn how to chord, strum in time, and solo.
It's easier than you think.
Start your summer off with taking mandolin lessons today.