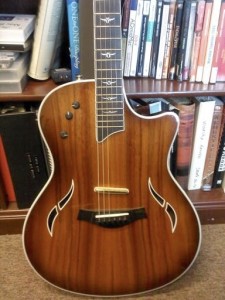 Taking guitar lessons can be fun and challenging. It helps to have a good guitar to learn with.
Above is a picture of my Tayor T5 electric / acoustic guitar. It's known as a hybrid guitar. It has the ability to sound like an acoustic guitar. With a switch of a knob, you have four different pick up selections to choose from. Neck, bridge, Gretsch and Fender Strat tone.
Teaching guitar, I have discovered that it is important to find a guitar that is easy to play and stays in tune. When looking for a beginning guitar, make sure to have it set up ( lowered string action and intonation) Beginning guitar players won't get discouraged or have their fingers hurt.
Find a teacher who is a good communicator, and has the ability to help you develop proper hand technique. Scales and fingering exercises are important when taking your first guitar lessons. You have to build up finger strength and calluses on your fingertips.
Look for a teacher who is patient and is willing to listen to what you want to learn how to play. I am really strong in the area of rock, folk, blues, country and roots/ gospel music. I am not a heavy metal shredder, so I wouldn't be the best teacher for that style of music.
Be able to measure and track your musical progress and goals. I use several guitar instruction books, in addition to several IPAD music applications in my lessons. This helps you and your teacher stay on track.
If you are looking for guitar lessons for you, or your children contact me. I have a few openings available before the school year starts.
I teach Monday afternoons in west Vancouver, Wa and Tuesday, Thursday and Friday afternoons in Camas,Wa. Plenty of on site parking and safe secure locations.
Thanks again for visiting my blog!