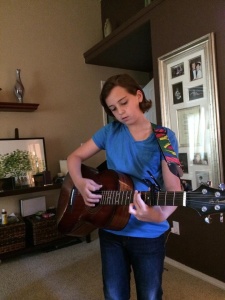 I offer private guitar lessons for all ages and levels of ability.
Yes, there is a difference between playing acoustic guitar and electric guitar. Which is easier to learn on?
In my private one on one lessons, we focus in on a few things:
Music theory: why chords and melody work together. You will learn how to recognize the chord patterns that are in your favorite songs.
Technique: it requires certain left hand posture to accomplish playing certain chords. Playing on your finger tips, having your wrist at the right angle and understanding why this is important.
Strumming / Rythmn patterns: every form / type of music has a " beat" and you will learn how to play with timing, and groove. It takes practice and understanding how to do so.
What kind of guitar / gear / effects ?
I play a wide variety of styles: Rock, country, folk, blues, gospel and Americana. From old school Johnny Cash to the Fleet Foxes, I can help you understand their musical soul and how to develop your own musical style of playing.
I will help you understand what kind of guitar to buy, what amps / effects to use, in order to develop your " sound"
I use several guitar method books, in addition to the Internet with several music apps that will help you master the guitar.
I have a few openings for students of all ages and levels of experience.
Contact me via email or my office phone.
Looking forward to getting you started with guitar lessons today. Right here in Camas WA