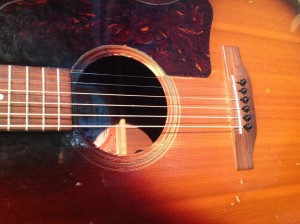 As spring time is right around the corner, it's time to get that old guitar out of the closet and learn to play it right. Above is a picture of my 1973 Gibson J 45 deluxe. It's full of nicks and scratches, but it has " mojo" aka a certain kind if musical vibe that comes with a 40 year old guitar.
When choosing a guitar for lessons, you don't need the most expensive guitar.
Just have a guitar that:
Is easy to play and doesn't cause your fingers to hurt.
Stays in tune
And find an instructor who is experience and patient.
About me:
I have been playing and teaching guitar for over 40 years.
From rock, folk, blues and country, I can help you unlock the musical " box " that everyone has. That box contains musical ideas and stories from our past / present that can be released through taking guitar lessons.
I have a few afternoon opening at my Camas WA location.
Let's get started our your musical journey and start having fun playing guitar.
Oh yes, I do teach voice lessons as well.