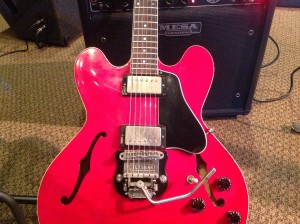 This is a picture of one of my favorite guitars: 1983 Gibson ES 335.
Made famous by the Doobie Brothers, Eric Clapton during his Cream era, and Larry Carlton among others.
This guitar can cover rock, blues, country and jazz. Dave Grohl from the Foo Fighters has his own custom model.
Gibson gets a lot of bad raps on the construction of their high end guitars. I agree, to a certain point. But if you find a good guitar teacher and take some lessons, the guitar shouldn't matter.
The amp in the background is my Mesa Express 5:25. All tube, with a 12″ Celestion speaker.
When looking for a semi hollow body guitar, I would consider a Gibson 335. Yes they are heavy. Yes, it's not a cool looking guitar with bling ( like a Gretsch Black Falcon) But you will find a rich tradition of musical history with this guitar.
I teach private guitar lessons here in Vancouver, Wa. Available days are Monday, Tuesday, Thursday and Fridays. Contact me for rates and availability.
Thanks for reading!