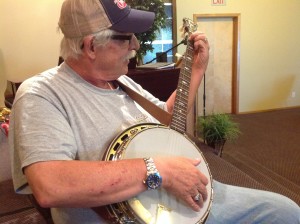 This picture is one of my students "Dan". He has an interesting story. Take a few minutes to read about it.
Dan approached me about nine month ago about wanting to take 5 string banjo lessons. The challenge: he told me that he has never played a musical instrument. Because he is older ( code for 60 + ) he wasn't sure if he could learn a new instrument.
But Dan has something that all of my students share: a drive and desire to learn. He didn't want to be told that he didn't have the potential. But he did want me to tell him the truth: how he was doing in his banjo lessons, is he progressing, and if he wasn't getting a concept, he wanted me to encourage him.
Since I have started teaching banjo here in Vancouver WA, I have observed a few things. These observations can apply to all beginning music students. It can apply to voice lessons. It can apply to guitar lessons, and yes banjo lessons too.
First: no matter what, believe that you can learn new things. No matter how young or old, music lives inside of us. If you are older ( like Dan and myself) its easy to buy the "cultural lie" that its too late to learn a musical instrument. Or that music is for young people. Wrong! I will live the rest of my days tearing down that perception .
Second: Define the expectation. Set out realistic goals that are obtainable. One goal could be playing " Amazing Grace" on the banjo. Or playing lullabies to your kids ( or grandkids ) Be patient and realize it takes time.
Third: Find a teacher ( like myself) who believes that playing music ( guitar, banjo, singing, piano etc) has to be fun! Its a requirement not an option! Then practicing will be fun and not a chore.
Fourth: Don't give up. In my music lessons, I talk about unlocking the musical box that all of us have. My goal is to help my students " unlock " the box. Once they discover how to do this, they start filling their box with songs, memories and laughter.
Steve Hotra ( thats me ) offers private music lessons for guitar, voice, banjo, piano, mandolin right here in Vancouver WA. I have two locations that I teach from. Heritage Church in Hazel Dell, and Parkside Church in Camas WA.
Banjo is a simple instrument to learn. You may like it or you may quit after a week. But you have nothing to lose by taking a few lessons to find out. Contact me today about getting started!