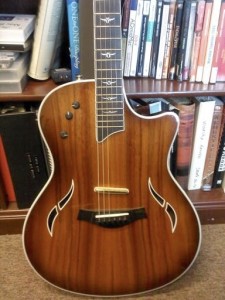 Acoustic guitar lessons Vancouver Wa
Acoustic guitar playing is a great thing to learn. Taylor guitars are easy to play, have great sound and low action.
I use a lot of teaching material from Alfred's music company.
Lesson tips:
Learn to play open position chords
Learn various strumming patterns.
Find a acoustic guitar that stays in tune.
There are some great "used" acoustic guitars to be found on the web. Take your time, and choose a guitar that you like. Body shape, color, feel of the neck, pickups and case are items to consider.
Most music stores will offer a 30 day exchange policy on new guitars. There are deals to be found! Playing an acoustic guitar is very different than electric guitars: the strings are heavier, and it's harder for beginning players to master.
But find a patient and experienced music teacher ( like myself) who knows how to help you become a better guitar player.
I have opening for acoustic guitar lessons here in Vancouver, WA.
Give me a call!